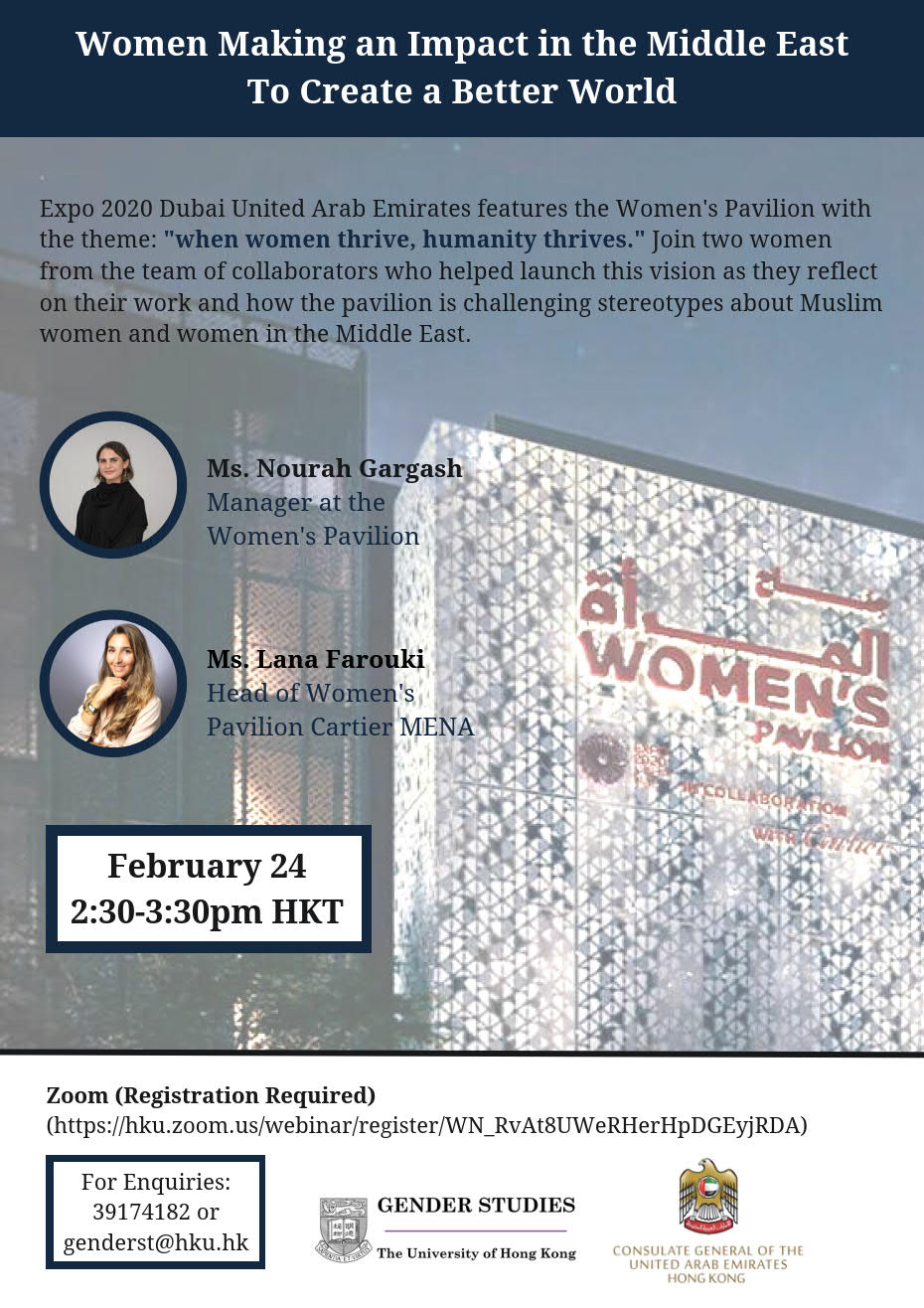 Women Making an Impact in the Middle East to Create a Better World
February 24, 2022 @ 2:30 pm

-

3:30 pm
Women Making an Impact in the Middle East to Create a Better World



24 February 2022 (Thursday)
2:30 – 3:30 pm (HKT)
Expo 2020 Dubai United Arab Emirates features the Women's Pavilion with the theme: "when women thrive, humanity thrives." Join two women from the team of collaborators who helped launch this vision as they reflect on their work and how the pavilion is challenging stereotypes about Muslim women and women in the Middle East.
Speakers
Ms. Nourah Gargash, Manager at the Women's Pavilion
Nourah holds an BA in History of Art from the University College of London (UCL), and the School of African and Oriental Studies (SOAS). Graduating in 2018, Nourah began working for Expo 2020 Dubai on the Women's Pavilion in collaboration with Cartier. During her time on the project, Nourah played a central role in the development of the Exhibition's visitor journey, design development and operational plans. Currently, Nourah is leading on the Vision and Journey Programming stream that hosts prominent and high-level speakers at the Women's Pavilion Majlis.
Ms. Lana Farouki, Head of the Women's Pavilion Cartier MENA
Born in London and raised in Washington DC, Lana graduated University with a bachelor's degree in Fashion Marketing. She has lived in Dubai for the last 12 years where she started her career with Cartier in the communications department working on key projects such as the opening of the Dubai Opera. Since 2019, she has headed the project of the Women's Pavilion on Cartier side with a dedicated team working on content, curation, journey and programming.
Opening remarks
Shaikh Saoud AlMualla, Acting Consul General, UAE Consulate General in Hong Kong
Moderators
Ms. Daiana Mazaripova, Undergraduate Student, Gender Studies Programme, HKU
Dr. Elizabeth LaCouture, Director, Gender Studies Programme, HKU
Zoom registration required https://hku.zoom.us/webinar/register/WN_RvAt8UWeRHerHpDGEyjRDA
Sponsored by
The Gender Studies Programme, the University of Hong Kong and The Consulate General of the United Arab Emirates in Hong Kong
For Enquiries: 39174182 or genderst@hku.hk