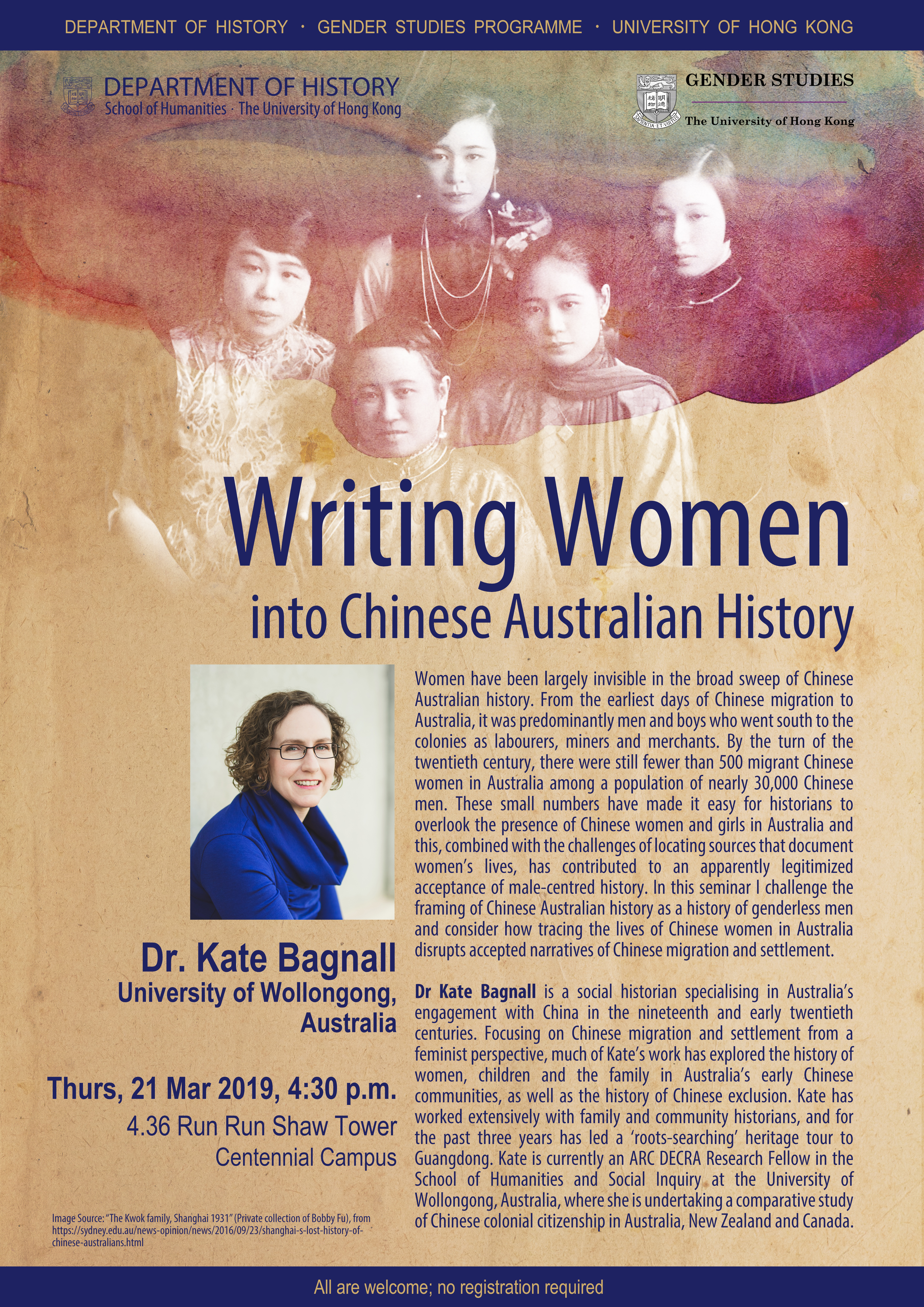 Writing women into Chinese Australian history
March 21, 2019 @ 4:30 pm

-

6:00 pm
Writing women into Chinese Australian history
——-Abstract——-
Women have been largely invisible in the broad sweep of Chinese Australian history. From the earliest days of Chinese migration to Australia, it was predominantly men and boys who went south to the colonies as labourers, miners and merchants. By the turn of the twentieth century, there were still fewer than 500 migrant Chinese women in Australia among a population of nearly 30,000 Chinese men. These small numbers have made it easy for historians to overlook the presence of Chinese women and girls in Australia and this, combined with the challenges of locating sources that document women's lives, has contributed to an apparently legitimized acceptance of male-centred history. In this seminar I challenge the framing of Chinese Australian history as a history of genderless men and consider how tracing the lives of Chinese women in Australia disrupts accepted narratives of Chinese migration and settlement.
——-About the speaker——-​
Dr Kate Bagnall is a social historian specialising in Australia's engagement with China in the nineteenth and early twentieth centuries. Focusing on Chinese migration and settlement from a feminist perspective, much of Kate's work has explored the history of women, children and the family in Australia's early Chinese communities, as well as the history of Chinese exclusion. Kate has worked extensively with family and community historians, and for the past three years has led a 'roots-searching' heritage tour to Guangdong. Kate is currently an ARC DECRA Research Fellow in the School of Humanities and Social Inquiry at the University of Wollongong, Australia, where she is undertaking a comparative study of Chinese colonial citizenship in Australia, New Zealand and Canada.
——-Details——-
Speaker: Dr Kate Bagnall , The University of Wollongong
Date: 21/3/2019 (Thur)
Time: 16:30-18:00
Venue: Rm 4.36, 4/F, Run Run Shaw Tower, Centennial Campus, HKU
Language: English
This seminar is hosted by the School of Humanities, Gender Studies programme, and Department of History.