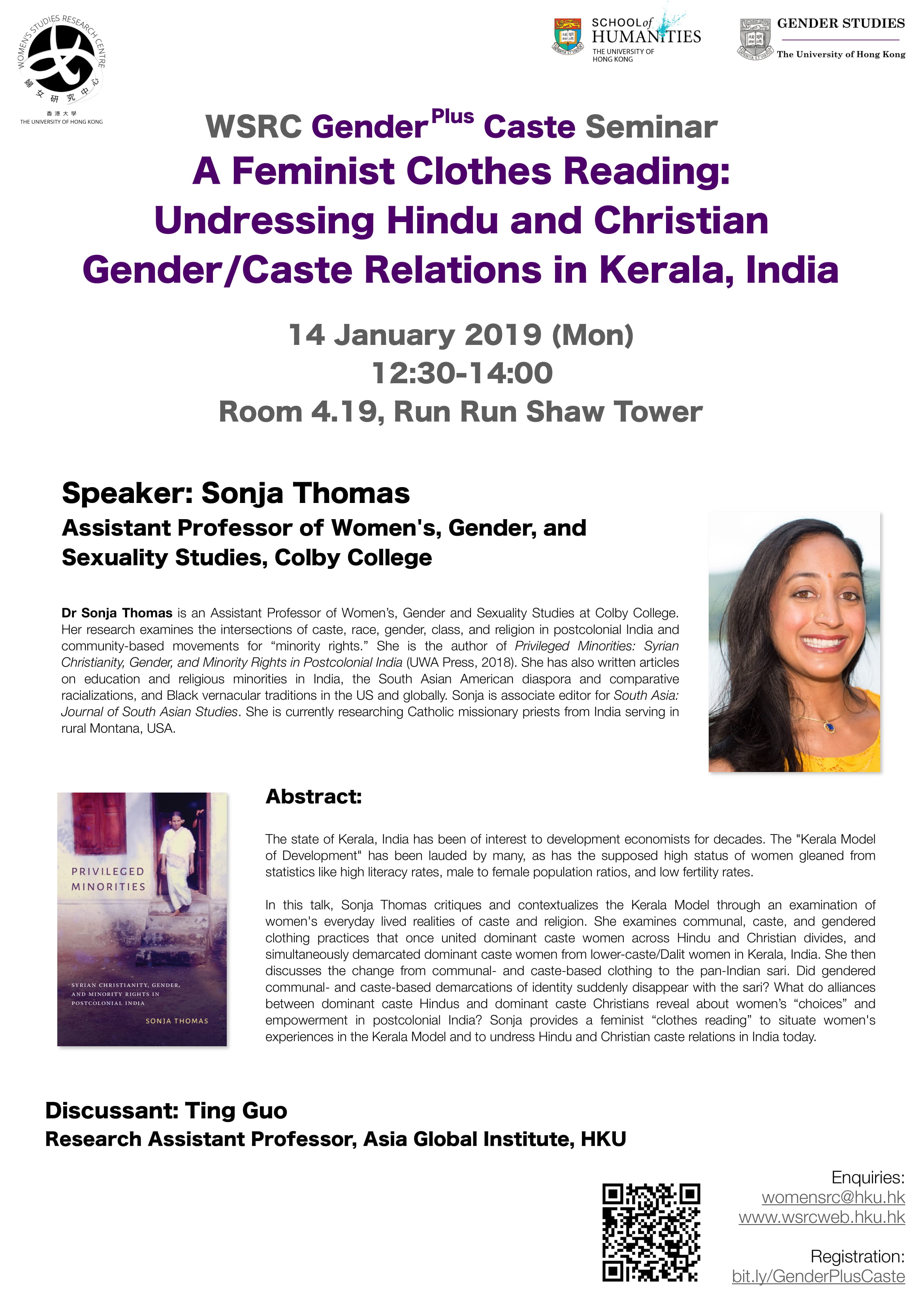 WSRC Gender+Caste Seminar: A Feminist Clothes Reading
January 14, 2019 @ 12:30 pm

-

2:00 pm
WSRC Gender+Caste Seminar: A Feminist Clothes Reading
——-Abstract——-
The state of Kerala, India has been of interest to development economists for decades. The "Kerala Model of Development" has been lauded by many, as has the supposed high status of women gleaned from statistics like high literacy rates, male to female population ratios, and low fertility rates.
In this talk, Sonja Thomas critiques and contextualizes the Kerala Model through an examination of women's everyday lived realities of caste and religion. She examines communal, caste, and gendered clothing practices that once united dominant caste women across Hindu and Christian divides, and simultaneously demarcated dominant caste women from lower-caste/Dalit women in Kerala, India. She then discusses the change from communal- and caste-based clothing to the pan-Indian sari. Did gendered communal- and caste-based demarcations of identity suddenly disappear with the sari? What do alliances between dominant caste Hindus and dominant caste Christians reveal about women's "choices" and empowerment in postcolonial India? Sonja provides a feminist "clothes reading" to situate women's experiences in the Kerala Model and to undress Hindu and Christian caste relations in India today. ​Ting Guo​, Research Assistant Professor at the HKU Asia Global Institute will join the talk as a discussant.
——-About the speaker——-​
Dr Sonja Thomas is an Assistant Professor of Women's, Gender and Sexuality Studies at Colby College. Her research examines the intersections of caste, race, gender, class, and religion in postcolonial India and community-based movements for "minority rights." She is the author of Privileged Minorities: Syrian Christianity, Gender, and Minority Rights in Postcolonial India (UWA Press, 2018). She has also written articles on education and religious minorities in India, the South Asian American diaspora and comparative racializations, and Black vernacular traditions in the US and globally. Sonja is associate editor for South Asia: Journal of South Asian Studies. She is currently researching Catholic missionary priests from India serving in rural Montana, USA. ​
——-Details——-
Speaker: Dr Sonja Thomas, Colby College
Date: 14/1/2019 (Mon)
Time: 12:30-14:00
Venue: Rm 4.19, 4/F, Run Run Shaw Tower, Centennial Campus, HKU
Language: English
This seminar is hosted by the School of Humanities, Gender Studies programme, and the Women's Studies Research Centre (WSRC).