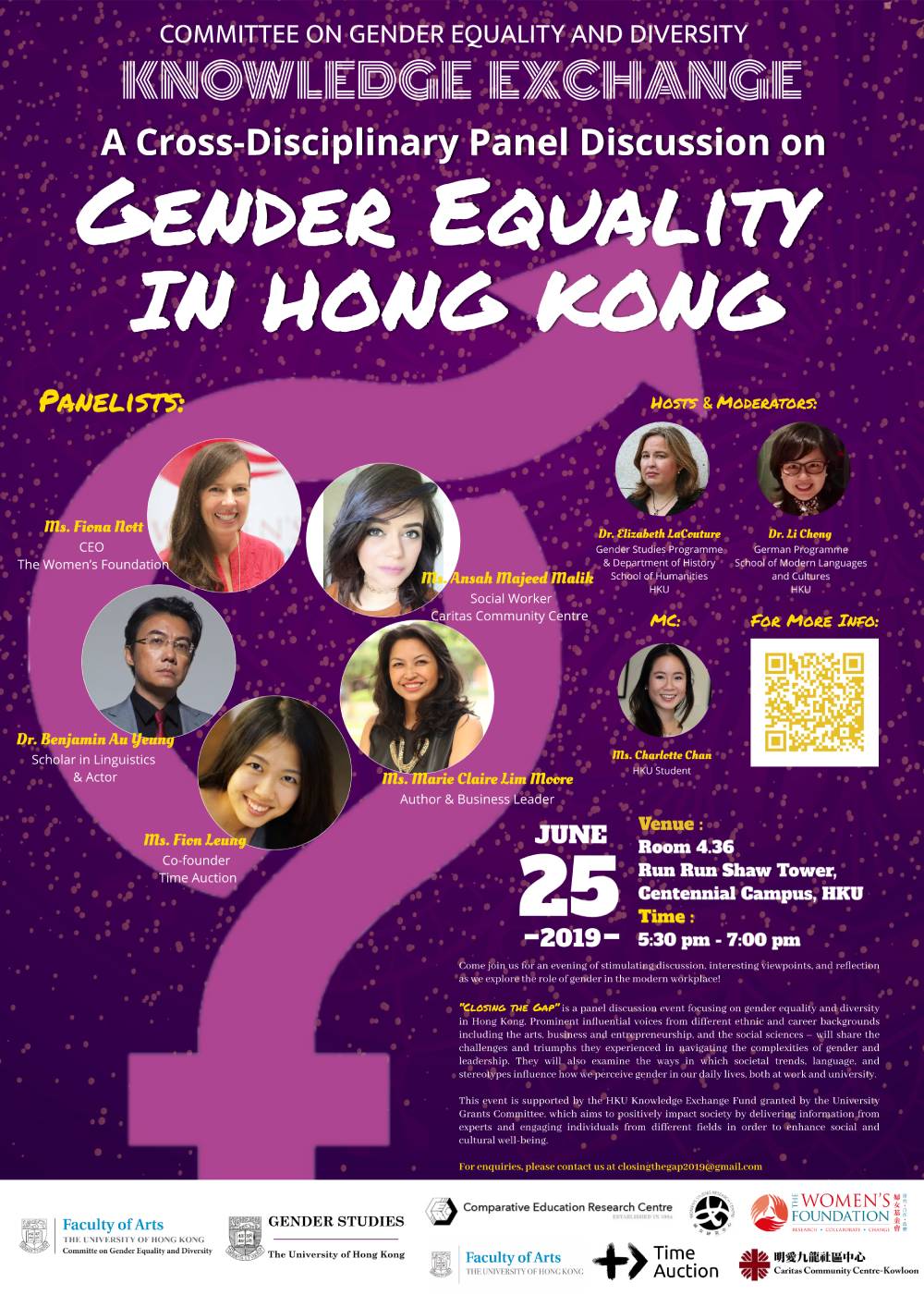 A cross-disciplinary panel discussion on Gender Equality in Hong Kong
June 25, 2019 @ 5:30 pm

-

7:00 pm
Come join us for an evening of stimulating discussion, interesting viewpoints, and reflection as we explore the role of gender in the modern workplace!
"Closing the Gap" is a panel discussion event focusing on gender equality and diversity in Hong Kong. Prominent influential voices from different ethnic and career backgrounds – including the arts, business and entrepreneurship, and the social sciences – will share the challenges and triumphs they experienced in navigating the complexities of gender and leadership. They will also examine the ways in which societal trends, language, and stereotypes influence how we perceive gender in our daily lives, both at work and university.
This event is supported by the HKU Knowledge Exchange Fund granted by the University Grants Committee, which aims to positively impact society by delivering information from experts and engaging individuals from different fields in order to enhance social and cultural well-being.
Panelists:
Dr. Benjamin Au Yeung (Scholar in Linguistics & Actor)
Ms. Fion Leung (Co-founder of Time Auction)
Ms. Ansah Majeed Malik (Social Worker)
Ms. Marie Claire Lim Moore (Author & Business Leader)
Ms. Fiona Nott (CEO of The Women's Foundation)
Hosts & Moderators:
Dr. Elizabeth LaCouture (Gender Studies Programme and History, School of Humanities, HKU)
Dr. Li Chong (German Programme, School of Modern Languages and Cultures, HKU)
MC:
Ms. Charlotte Chan (HKU Student)