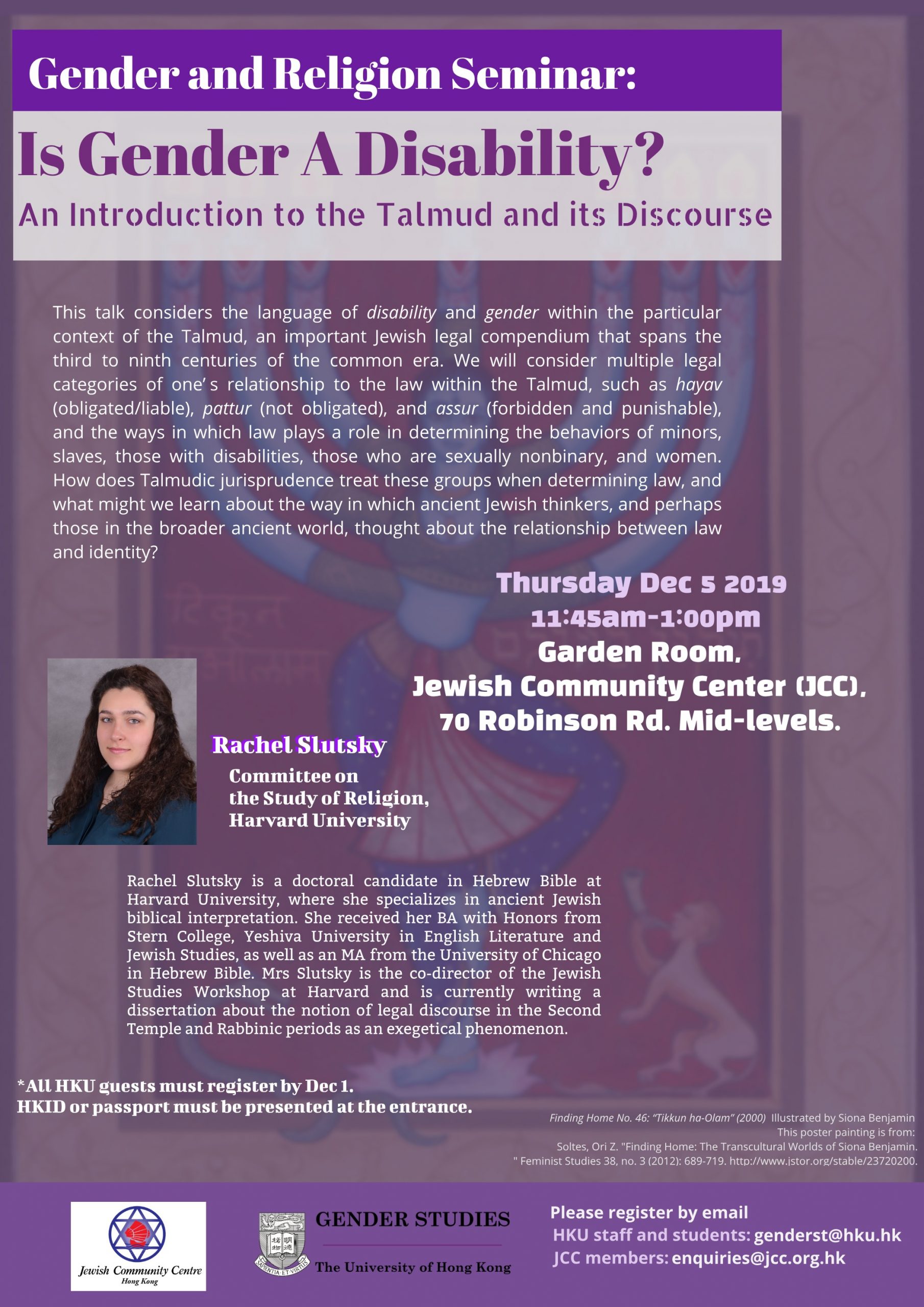 Is Gender a Disability? An Introduction to the Talmud and its Discourse
December 5, 2019 @ 11:45 am

-

1:00 pm
Is Gender a Disability? An Introduction to the Talmud and its Discourse
Date: 5 December 2019 (Thursday)
Time: 11:45 a.m. – 1:00 p.m.
Venue: Garden Room, Jewish Community Center (JCC), 70 Robinson Rd. Mid-levels
This talk considers the language of disability and gender within the particular context of the Talmud, an important Jewish legal compendium that spans the third to ninth centuries of the common era. We will consider multiple legal categories of one's relationship to the law within the Talmud, such as hayav (obligated/liable), pattur (not obligated), and assur (forbidden and punishable), and the ways in which law plays a role in determining the behaviors of minors, slaves, those with disabilities, those who are sexually nonbinary, and women. How does Talmudic jurisprudence treat these groups when determining law, and what might we learn about the way in which ancient Jewish thinkers, and perhaps those in the broader ancient world, thought about the relationship between law and identity?
Speaker: Rachel Slutsky – Doctoral candidate in Hebrew Bible, Harvard University
Rachel Slutsky is a doctoral candidate in Hebrew Bible at Harvard University, where she specializes in ancient Jewish biblical interpretation. Rachel received her BA with Honors from Stern College, Yeshiva University in English Literature and Jewish Studies, as well as an MA from the University of Chicago in Hebrew Bible. In addition to co-directing the Jewish Studies Workshop at Harvard and serving as a Jewish Studies teaching fellow in courses on the Holocaust and modern Jewish History, Rachel speaks to both lay and academic audiences both in the US as well as abroad about biblical interpretation, Jewish, Christian, and Muslim approaches to the Bible, and Jewish history. She is currently writing a dissertation about the notion of legal discourse in the Second Temple and Rabbinic periods as an exegetical phenomenon. Rachel lives in Cambridge, MA with her husband, Jacob.
*All HKU guests must register by Dec 1 2019
HKID or passport must be presented at the entrance for security check.
Please register by email
HKU staff and students: genderst@hku.hk
JCC members: enquiries@jcc.org.hk