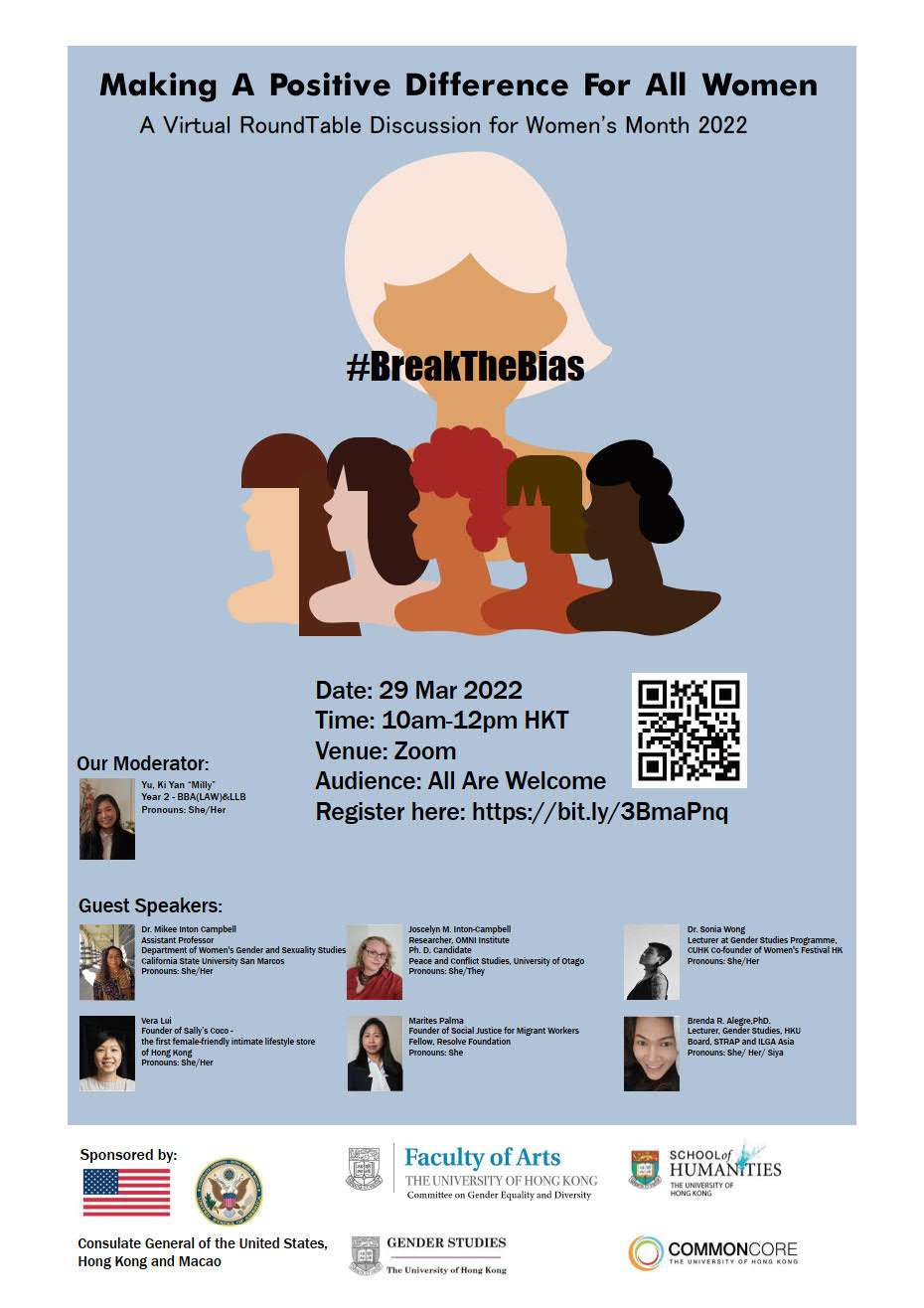 Making A Positive Difference For All Women
March 29 @ 10:00 am

-

12:00 pm
The Gender Studies Programme, School of Humanities, the Committee on Gender Equality and Diversity, Faculty of Arts, and the Common Core Office at the University of Hong Kong present: 
Making A Positive Difference For All Women 
A Virtual Round Table Discussion This Women's Month 2022 
#BreakTheBias
Speakers:
Mikee Inton Campbell, Assistant Professor, Department of Women's Gender and Sexuality Studies, California State University San Marcos
Joscelyn M. Inton Campbell, Researcher at the OMNI Institute, at US-based NGO, and PhD Candidate in Peace and Conflict Studies at the University of Otago
Sonia Wong, Lecturer in the Gender Studies Programme, CUHK and co-founder of the Women's Festival HK
Vera Lui, Founder of Sally Coco, the first female-friendly intimate lifestyle store in Hong Kong
Marites Palma, Founder of Social Justice for Migrant Workers and Fellow, Resolve, a HK-based NGO
Respondent: Brenda Alegre, Lecturer, Gender Studies Programme, School of Humanities, HKU
Moderator: Yu Ki Yan "Milly," a Year 2 student in Business and Law at HKU
This event is held with the support of the U.S. Consulate General Hong Kong and Macau.
Date: 29 March 2022 (Tuesday)
Time: 10am – 12pm HKT
Venue: Zoom
Audience: All Are Welcome
Register here: https://bit.ly/3BmaPnq
Women's Month is coming very soon. This year, we have organized an event – A Virtual RoundTable: Women's Month 2022 to celebrate Women's Month. It is a virtual roundtable discussion regarding why Women's Day/Month celebration is important to us, what is missing and what else we need to see in women's visibility projects. This panel follows the international theme of  #breakthebias whereby we want to create awareness on ending bias, stereotypes and discrimination against all women. Several women with different races, occupations and backgrounds are invited to this event, to share their experiences and join in the discussion with you.
For enquiries, please contact Meg Baguio or Raj Reyes: meg3@hku.hk or rajr0207@hku.hk
Visit our website: https://genderstudies.hku.hk/