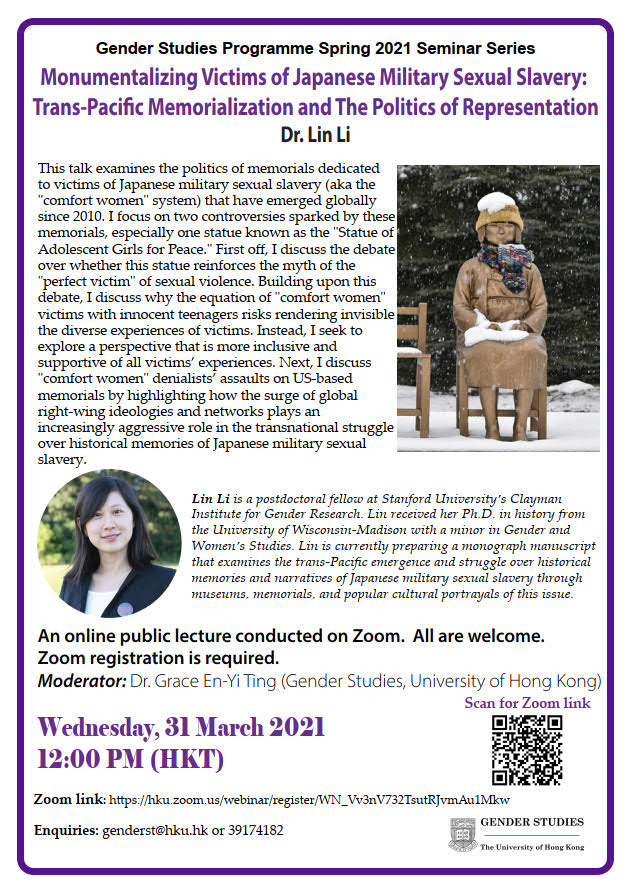 Monumentalizing Victims of Japanese Military Sexual Slavery: Trans-Pacific Memorialization and The Politics of Representation
March 31, 2021 @ 12:00 pm

-

1:30 pm
Monumentalizing Victims of Japanese Military Sexual Slavery: Trans-Pacific Memorialization and The Politics of Representation
An online public lecture conducted on Zoom. All are welcome.
Zoom registration is required.
Date: 31 March 2021 (Wednesday)
Time: 12:00 PM (HKT)
Zoom URL: https://hku.zoom.us/webinar/register/WN_Vv3nV732TsutRJvmAu1Mkw
Facebook event page: https://www.facebook.com/events/1571511993019474/
Speaker: Dr. Lin Li (Postdoctoral Research Fellow, Clayman Institute for Gender Research, Stanford University)
This talk examines the politics of memorials dedicated to victims of Japanese military sexual slavery (aka the "comfort women" system) that have emerged globally since 2010. I focus on two controversies sparked by these memorials, especially one statue known as the "Statue of Adolescent Girls for Peace." First off, I discuss the debate over whether this statue reinforces the myth of the "perfect victim" of sexual violence. Building upon this debate, I discuss why the equation of "comfort women" victims with innocent teenagers risks rendering invisible the diverse experiences of victims. Instead, I seek to explore a perspective that is more inclusive and supportive of all victims' experiences. Next, I discuss "comfort women" denialists' assaults on US-based memorials by highlighting how the surge of global right-wing ideologies and networks plays an increasingly aggressive role in the transnational struggle over historical memories of Japanese military sexual slavery.
Lin Li is a postdoctoral fellow at Stanford University's Clayman Institute for Gender Research. Lin received her Ph.D. in history from the University of Wisconsin-Madison with a minor in Gender and Women's Studies. Lin is currently preparing a monograph manuscript that examines the trans-Pacific emergence and struggle over historical memories and narratives of Japanese military sexual slavery through museums, memorials, and popular cultural portrayals of this issue.
Moderator: Dr. Grace En-Yi Ting (Gender Studies, University of Hong Kong)
This event is organized as part of the Gender Studies Programme Spring 2021 Seminar Series at the University of Hong Kong.
Enquiries: genderst@hku.hk or 39174182