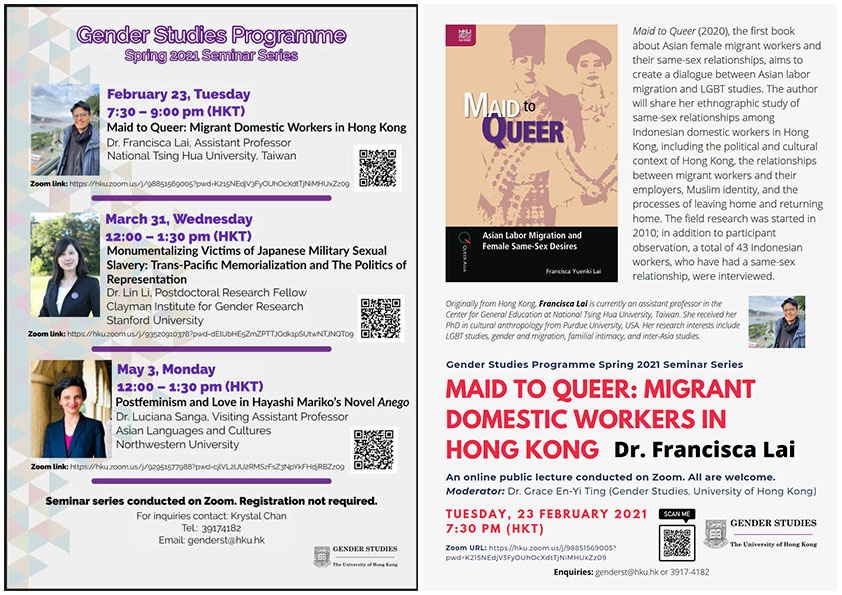 Maid to Queer: Migrant Domestic Workers in Hong Kong
February 23, 2021 @ 7:30 pm

-

9:00 pm
Maid to Queer: Migrant Domestic Workers in Hong Kong  
An online public lecture conducted on Zoom. All are welcome.
Date: 23 February 2021 (Tuesday)
Time: 7:30 PM (HKT)
Zoom URL: https://hku.zoom.us/j/98851569005?pwd=K215NEdjV3FyOUhOcXdtTjNiMHUxZz09
Facebook event page: https://www.facebook.com/events/243580180698574/
Speaker: Dr. Francisca Lai (Assistant Professor, Center for General Education at National Tsing Hua University, Taiwan)
Maid to Queer (2020), the first book about Asian female migrant workers and their same-sex relationships, aims to create a dialogue between Asian labor migration and LGBT studies. The author will share her ethnographic study of same-sex relationships among Indonesian domestic workers in Hong Kong, including the political and cultural context of Hong Kong, the relationships between migrant workers and their employers, Muslim identity, and the processes of leaving home and returning home. The field research was started in 2010; in addition to participant observation, a total of 43 Indonesian workers, who have had a same-sex relationship, were interviewed.
Originally from Hong Kong, Francisca Lai is currently an assistant professor in the Center for General Education at National Tsing Hua University, Taiwan. She received her PhD in cultural anthropology from Purdue University, USA. Her research interests include LGBT studies, gender and migration, familial intimacy, and inter-Asia studies.
Moderator: Dr. Grace En-Yi Ting (Gender Studies, University of Hong Kong)
This event is organized as part of the Gender Studies Programme Spring 2021 Seminar Series at the University of Hong Kong.
Enquiries: genderst@hku.hk or 39174182