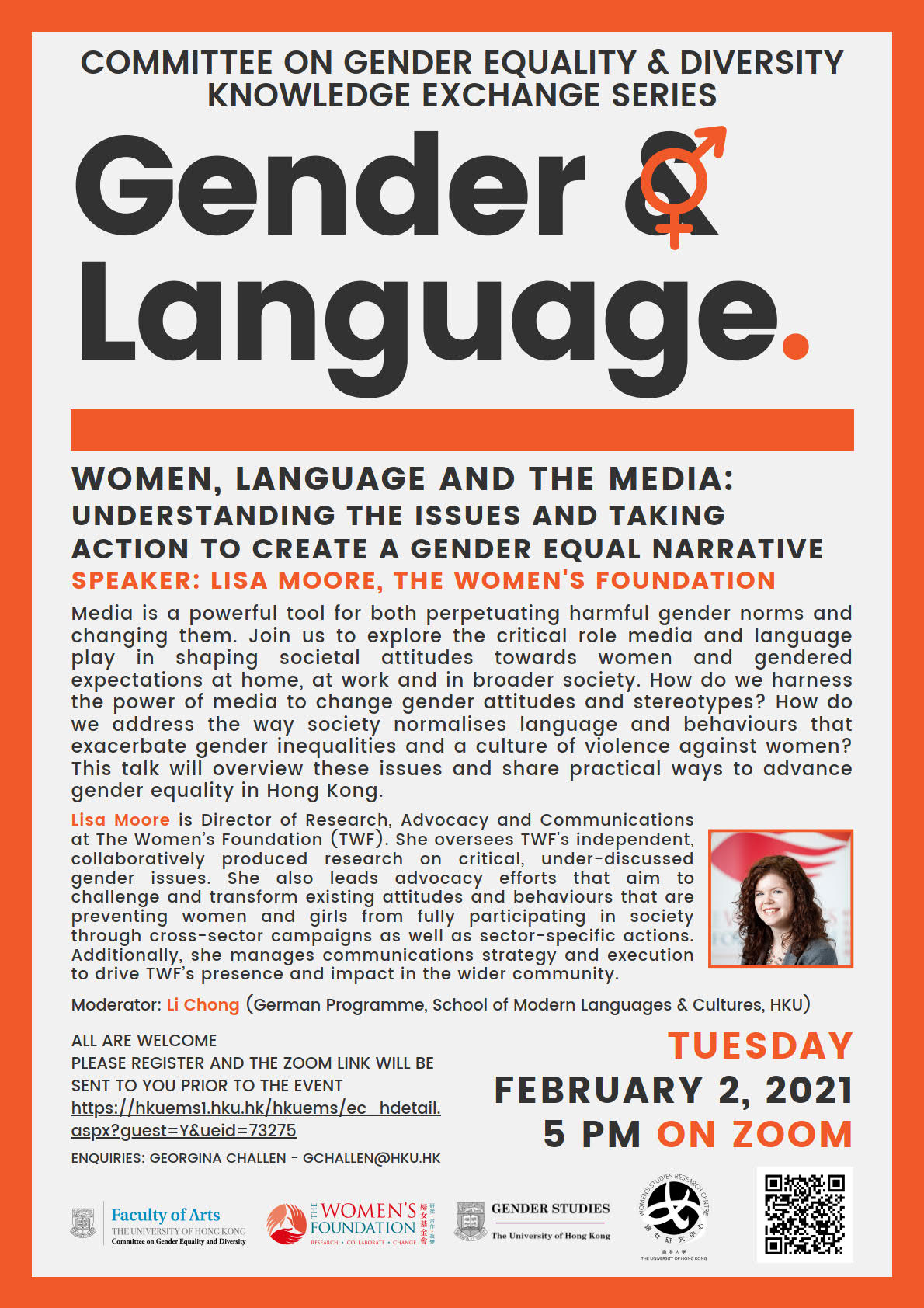 Women, Language and the Media: Understanding the Issues and Taking Action to Create a Gender Equal Narrative
February 2, 2021 @ 5:00 pm

-

6:30 pm
Committee on Gender Equality and Diversity
Knowledge Exchange Series – Gender & Language
Women, Language and the Media: Understanding the Issues and Taking Action to Create a Gender Equal Narrative
Speaker: Lisa Moore, The Women's Foundation
Moderator: Li Chong, German Programme, School of Modern Languages and Cultures, HKU
Date: 2 February 2021 (Tuesday)
Time: 5:00 PM
Delivery: via Zoom
Registration is required. The Zoom link will be sent to you prior to the event.
Media is a powerful tool for both perpetuating harmful gender norms and changing them. Join us to explore the critical role media and language play in shaping societal attitudes towards women and gendered expectations at home, at work and in broader society. How do we harness the power of media to change gender attitudes and stereotypes? How do we address the way society normalises language and behaviours that exacerbate gender inequalities and a culture of violence against women? This talk will overview these issues and share practical ways to advance gender equality in Hong Kong.
Lisa Moore is Director of Research, Advocacy and Communications at The Women's Foundation (TWF). She oversees TWF's independent, collaboratively produced research on critical, under-discussed gender issues. She also leads advocacy efforts that aim to challenge and transform existing attitudes and behaviours that are preventing women and girls from fully participating in society through cross-sector campaigns as well as sector-specific actions. Additionally, she manages communications strategy and execution to drive TWF's presence and impact in the wider community. Prior to TWF, Lisa served as a Teaching & Research Fellow for Morningside College at the Chinese University of Hong Kong. Lisa holds a BA in Ethnic Studies from the University of Richmond and a MA in International Relations from Johns Hopkins University and Nanjing University.
This event is organized with the support of The Women's Foundation, the HKU Gender Studies Program, and the Women's Studies Research Centre at the University of Hong Kong.
All are welcome
Link for registration: https://hkuems1.hku.hk/hkuems/ec_hdetail.aspx?guest=Y&ueid=73275
Enquiries: Georgina Challen – gchallen@hku.hk