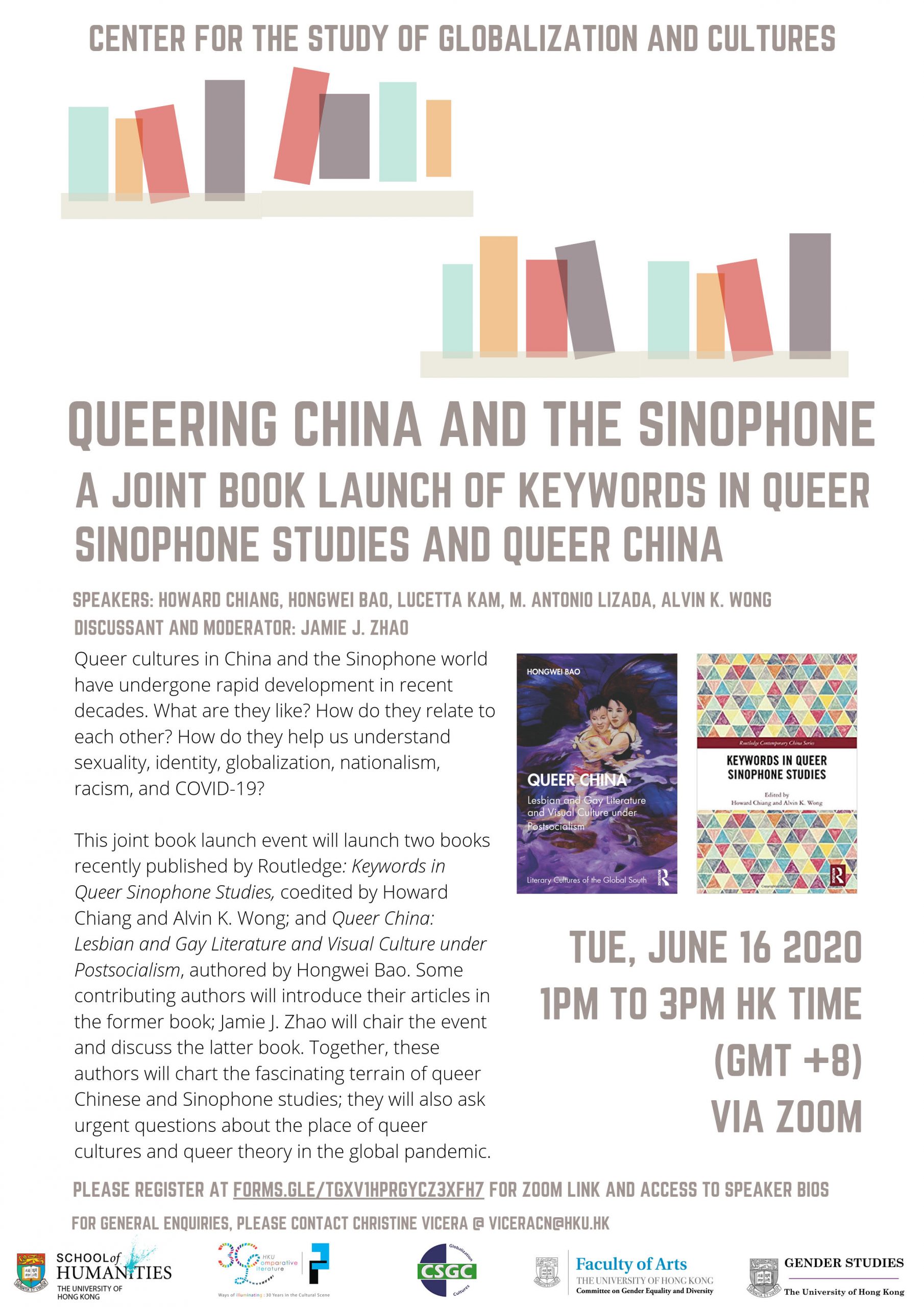 Queering China and the Sinophone: A Joint Book Launch of Keywords in Queer Sinophone Studies and Queer China
June 16, 2020 @ 1:00 pm

-

3:00 pm
Queering China and the Sinophone:
A Joint Book Launch of Keywords in Queer Sinophone Studies and Queer China
Date: June 16 2020 (Tuesday)
Time: Hong Kong (GMT+8) 13:00 – 15:00
Duration: 2 hours (1 hour for each book, including Q&A and discussion)
Venue: Zoom
Please register at https://forms.gle/tGXV1HPrgYCZ3XfH7 for Zoom link and access to speaker biographies
Event blurb
Queer cultures in China and the Sinophone world have undergone rapid development in recent decades. What are they like? How do they relate to each other? How do they help us understand sexuality, identity, globalization, nationalism, racism, and COVID-19?
This joint book launch event will launch two books recently published by Routledge:
1. Keywords in Queer Sinophone Studies, coedited by Howard Chiang and Alvin K. Wong
(https://www.routledge.com/Keywords-in-Queer-Sinophone-Studies/Chiang-Wong/p/book/9780367226039)
2.  Queer China: Lesbian and Gay Literature and Visual Culture under Postsocialism, authored by Hongwei Bao
(https://www.routledge.com/Queer-China-Lesbian-and-Gay-Literature-and-Visual-Culture-under-Postsocialism/Bao/p/book/9780367462840)
Some contributing authors will introduce their articles in the former book; Dr. Jamie J. Zhao will chair the event and discuss the latter book. Together, these authors will chart the fascinating terrain of queer Chinese and Sinophone studies; they will also ask urgent questions about the place of queer cultures and queer theory in the global pandemic.
Biographies of Speakers and Moderator:
Speakers: Howard Chiang, Alvin K. Wong, Hongwei Bao, Lucetta Y. L. Kam, and M. Antonio Lizada
Hongwei Bao:
Hongwei Bao is an associate professor of media and cultural studies at the University of Nottingham, UK, where he also co-directs Centre for Contemporary East Asian Cultural Studies. He is the author of Queer Comrades: Gay Identity and Tongzhi Activism in Postsocialist China (Nordic Institute of Asia Studies Press, 2018) and Queer China: Lesbian and Gay Literature and Visual Culture under Postsocialism (Routledge, 2020).
Howard Chiang:
Howard Chiang is Associate Professor of History at the University of California, Davis. He is the author of After Eunuchs: Science, Medicine, and the Transformation of Sex in Modern China (Columbia University Press, 2018), which received the 2019 International Convention of Asia Scholars Humanities Book Prize, and Transtopia in the Sinophone Pacific (Columbia University Press, 2021).
Lucetta Y. L. Kam:
Lucetta Y. L. Kam is Associate Professor in the Department of Humanities and Creative Writing at Hong Kong Baptist University. She is the author of Shanghai Lalas: Female Tongzhi Communities and Politics in Urban China (HKU Press, 2013; Chinese edition 2015). Her current projects include the transnational mobility of queer women from China and inter-Asian queer fandom in Taiwan of the all-female Takarazuka Revue in Japan.
M. Antonio Lizada:
M. Antonio Lizada is currently a Ph.D. candidate in Comparative Literature at HKU where he is completing his dissertation on post-1997 gay cinema of Thailand, the Philippines, and Hong Kong. His research areas are postcolonial queer theory, Southeast Asian literature and popular culture. He is also a creative writer and an occasional theater actor.
Alvin K. Wong:
Alvin K. Wong is Assistant Professor in the Department of Comparative Literature at HKU. He is currently writing a book titled Queer Hong Kong as Method. Wong has published in journals such as Journal of Lesbian Studies, Gender, Place & Culture, Culture, Theory, and Critique, Concentric, Continuum, and Cultural Dynamics and in edited volumes such as Transgender China, Queer Sinophone Cultures, and Hong Kong Keywords.
Discussant and Moderator: Jamie J. Zhao
Jamie J. Zhao is a global queer media scholar and currently Assistant Professor of Communications in the Department of Media and Communication at Xi'an Jiaotong-Liverpool University. She is the co-editor of Boys' Love, Cosplay, and Androgynous Idols: Queer Fan Cultures in Mainland China, Hong Kong, and Taiwan (HKUP, 2017).
For general inquiries, please contact Christine Vicera: VICERACN@HKU.HK