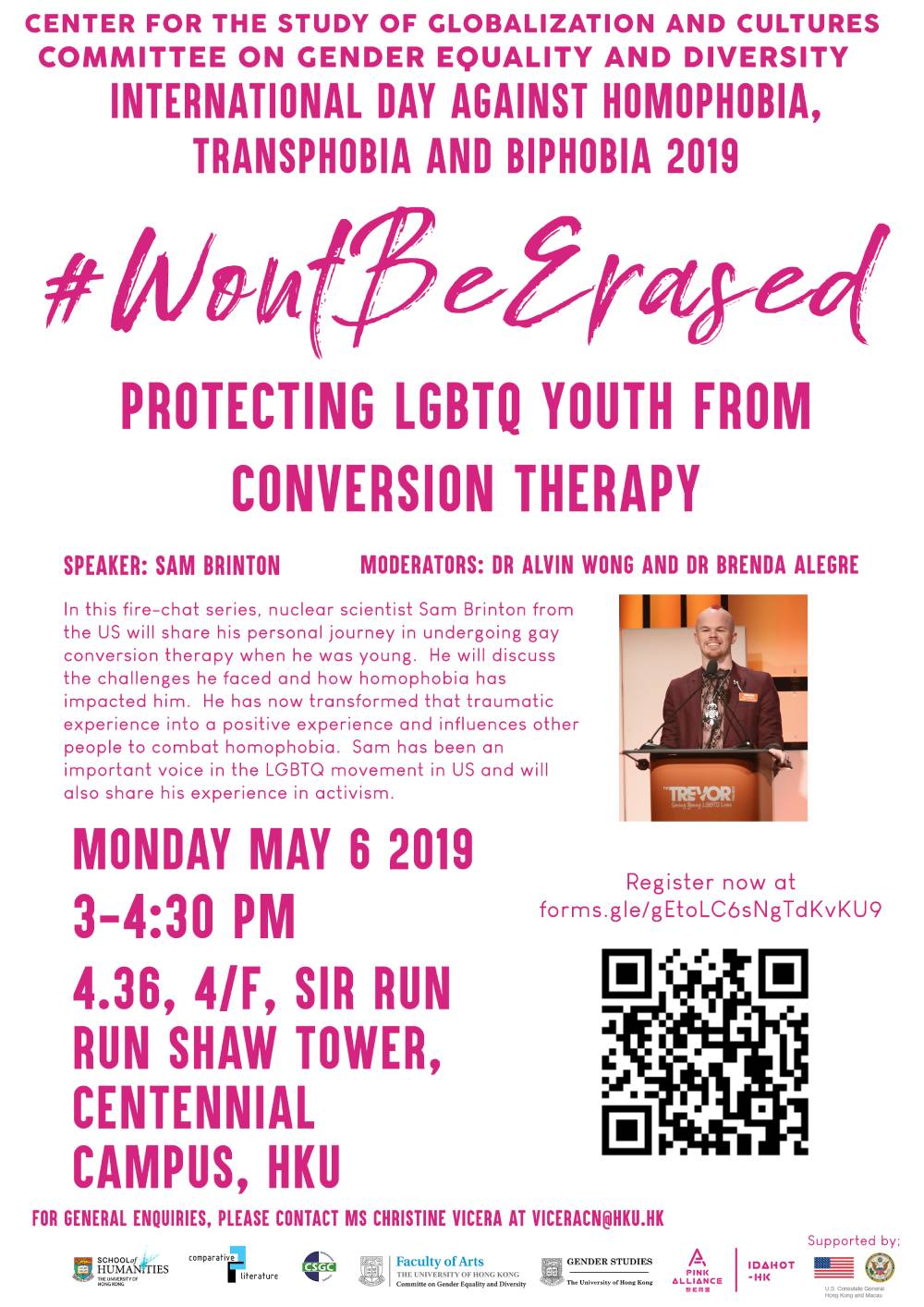 #WontBeErased: Protecting LGBTQ Youth from Conversion Therapy
May 6, 2019 @ 3:00 pm

-

4:30 pm
#WontBeErased: Protecting LGBTQ Youth from Conversion Therapy
Speaker: Sam Brinton
Moderators: Dr Alvin Wong and Dr Brenda Alegre
In this fire-chat series, nuclear scientist Sam Brinton from the US will share his personal journey in undergoing gay conversion therapy when he was young. He will discuss the challenges he faced and how homophobia has impacted him. He has now transformed that traumatic experience into a positive experience and influences other people to combat homophobia. Sam has been an important voice in the LGBTQ movement in US and will also share his experience in activism.
About Sam:
Sam is currently the Head of Advocacy and Government Affairs of the Trevor Project, an organisation providing crisis intervention and suicide prevention services to LGBTQ young people under 25.
Being a nuclear scientist and queer activist and from helping people to understand the differences in advanced nuclear reactors to the dangerous practices of anti-gay conversion therapy, Sam has the passion to change the world. This brings him to speak before the United Nations and the US Congress etc. He has also been featured in interviews with TIME, The Guardian and many others.
More about IDAHOT:
Held every year on May 17, IDAHOT draws the attention of policymakers, opinion leaders, social movers and shakers, the general public and the media to the violence and discrimination experienced by lesbian, gay, bisexual and transgender (LGBT+) people globally.
The theme of IDAHOT 2019 is "Biphobia". From now until May 17, Pink Alliance will be organizing a series of events to help educate the public and increase their understanding of this issue. By distributing pamphlets, we wish to promote the understanding of "Bi+Pan" sexuality. By conducting other outreach activities, including talks on gay conversion therapy by the U.S. queer activist Sam Brinton, a theatre workshop entitled "The Same, Not The Same?", a photography / art exhibition by local Bi artists, and school talks on IDAHOT, we hope to further raise awareness of the prejudice faced by bisexuals in both the general and queer communities.
Date: Monday 6 May 2019
Time: 3:00pm – 4:30pm
Venue: Rm4.36, 4/F, Run Run Shaw Tower, Centennial Campus, HKU
All are welcome. Registration online HERE
For enquiries, please contact Christine Vicera at viceracn@hku.hk